Nothing beats the classic, luxury appeal of hardwood in your home. Wood is value-additive, easy to clean day-to-day, and beautiful in all facets. And, with so many species of wood, grain types and stains to choose from, there's no limit to how it can add warmth and vibrancy to your space. The Wholesale House wants to make sure our investment in hardwood flooring in Aptos, Santa Cruz, Scotts Valley, and Santa Cruz County, CA is one you'll come to love for decades to come. We offer a full range of hardwood flooring styles and all of the expertise you need to understand them. Plus, with prices lower than the big-box chains, you'll be able to add tremendous value to your home at the lowest out-of-pocket cost!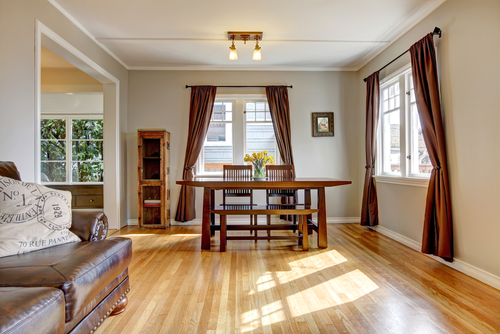 Hardwood of All Types
Wood comes in a huge range of species, each of which has its own properties and benefits. Not every wood flooring store in Santa Cruz, CA takes the time to educate their customers on which type of wood might best be suited for their home. At The Wholesale House, that's priority number one for our staff. From darker maple to a lighter, more natural oak, we'll familiarize you with your options to give you confidence when it comes time to buy.
Choosing the Right Wood Flooring
How do you know which type of wood flooring is right for you? It's important to look at a number of defining factors:
Type of Wood
Solid hardwood vs. engineered varieties needs to be a top consideration.
Species
From the strength of the wood to its grain type, it all comes down to species.
Board width
The size of your floorboards can impact how the final flooring looks.
Durability
Have pets? Kids? Picking a durable floor is a huge consideration.
Resilience
Stains, scuffs and blemishes can ruin a floor. Picking resilient wood is key.
Whether your qualities line up with oak, walnut, maple or mahogany, our team will help make sure you're narrowing down the choices to only ideal options.
Get Quality Wood Floors
Making the decision to bring beautiful wood flooring into your home? Stop by or contact us at The Wholesale House to view our many hardwood, carpet, laminate, and green flooring samples and to speak face-to-face with one of our knowledgeable experts. We'll help you make a choice that you're sure to love in your home.